Comic artist. IT guy. Breakfast Enthusiast.
Grim Jim (Jimmy Litz) has been doodling in the margins of notebooks since elementary school. One of these doodles eventually became Mr. Grim as we know him. But, originally, Grim Jim had plans to go into game design rather than cartooning.
However, while attending Carthage College in Kenosha, WI for Computer Science, Grim Jim ditched his intensifying programming courses to adopt a Communications major. There, he enjoyed working with various forms of digital media. The campus newspaper, The Current, hired him as a cartoonist, and, eventually, a production assistant. At the same time, he was heavily involved with film production on campus. He worked on the senior graduation video and even filmed the Carthage Choir as they toured Europe.
But he should have stuck with programming. As it turns out, it's pretty tough to land a job with a Communications degree. Rather than be discouraged, Grim Jim continued to pursue his passion in digital media via a graduate program at DePaul University's School of Computing and Digital Media. Grim Jim focused on animation and film production, landing internships and creating a robust portfolio. But when he graduated with a Masters in Digital Cinema, the jobs simply weren't there.
Grim Jim currently works as a Lead IT Support Specialist in Chicago, IL. He continues to take on side projects that include storyboarding, illustrating and animating. He produces new Grims comics on a biweekly basis and releases them through Patreon.
Giving Back:
Grim Jim was very fortunate in his adventures as an artist. Now, he wants to afford a younger generation of artists the same opportunities. Starting with The Grims Series VII, 50% of all revenue generated in Patreon goes to art-oriented classrooms on Donorschoose.org. So far, subscribers to The Grims have helped generate hundreds of dollars for impoverished classrooms.
---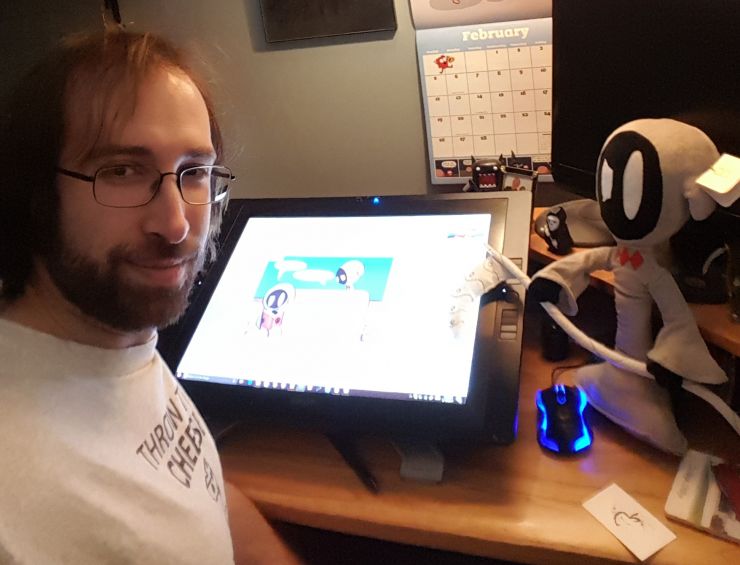 ---